The Gift of Tongues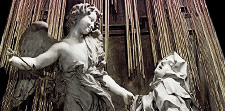 This is actually a very common gift today. Most people know someone else who "speaks in tongues," but the gift can be difficult to understand if it's unfamiliar.

---
What is tongues? Here's the key to desiring the gift: it is God praying for you.
We freely start/stop the process, yet God forms the words and content. This sounds incredible, but it's Biblical and genuine. I relate my account here: Receiving Charismatic Gifts (surprise: anyone can ask for it.)
By experience I notice it's more effective to request tongues first before the other supernatural charisms (e.g., Visions) , because it seems to "un-cork" the whole wine bottle.
Why important?
Tongues is the central carrier frequency for a person's unique, spiritual DNA. (1 Cor. 14:4; You "activate" your deepest self. )
It exchanges mysteries with our spirit and God's. (I Cor. 14:2), not via data-to-data, but heart-to-heart, color-to-color, mojo-to-mojo. It naturally marinates into contemplative prayer, which is "more than words".
The Spirit intercedes via the unconscious (where most of our being is). The Bible says it's a baby crying "Daddy" (Rom 8:26-27); and note that babies mess things up when they try to control. For more on this, hear this audio from Dr. Peter Kreeft on the Gift of Tongues (0:59)
"Public tongues" need interpretation; private do not. See Prayer Tongues.
Is the gift for everyone or just some? Public tongues are not for all (1 Cor 12:30), but private tongues are (Acts 2:4; glossolalia, not xenolalia). This is the same with prophecy: some are public prophets, yet God speaks through all. (And God wants to pray for everyone, hence prayer tongues).
Prayer tongues is an encoded "I Love You". By nature it's a firewall blocking the devil, as a private "encrypted line" as Theresa of Avila pointed out. See her Tongues Described.
The gift is a perfect example of how God enjoys arriving—via a Lover's Disguise.
Note: C. S. Lewis thought it would be odd if tongues didn't exist, for then there would be nothing that directly maps to Heaven, having no apparent earthly practical value.
It's not merely prayer, but praise (celebration)—one reason it's called angel language. Like an angel it cannot be divided -- it's pure worship. We value tongues more when we experience the Power of Praise.
The Bible says one purpose is to create a stir with unbelievers, by being the last sound you hear—unfamiliar language—before getting your land totally conquered (1 Cor 14:20). The "land" is your heart. (ULook out.)
If tongues is not paired/completed with prophecy (I Cor 14:5) then Paul says it doesn't build the body (only yourself), so the fuller, normal, practical benefit is to ask God for a messaged response.
It's a microcosm of Christianity: we can't do it w/o Christ, Christ won't do it w/o us. (Technically, the only one who prays in tongues is God, who does it through us. )
One normal way to receive tongues is to take initiative to vocally thank God. If you keep silent you probably won't ever receive it. (If you don't expect much, you probably won't be disappointed!) Simply love God out loud and wait until the Spirit arrives experientially.
Tongues is the question; prophecy is the answer.
Tongues is speaking on man's behalf to God; while prophecy is speaking on God's behalf to men. Thus, one of the purposes of tongues is to release a prophetic message from the Spirit. See The Voice of God
Leap
Those who pray in tongues are sometime accused of being drunk!—with God's joy. And actually, un-corking wine requires a little extra effort.
I need your whole heart.
Hold back nothing and even more so, do not let anything hinder its release to Me. There are so many locks on your heart: pride, guilt, doubt, self-righteousness, fear, worry, among others. Let go and fall back on Me for once.
Trust that as you leap to Me, I will catch you, as I supported Peter on the water. Nothing of this world supports or encourages leaping. But My Word calls for it and there is no greater truth on which you can rely. What are you afraid might happen? Have I called you to do it? Then what could go wrong? My Holy Spirit is with you every step of the way of your life anyhow. So why not leap as He directs?
More peace awaits following you stepping out than if you stayed in the boat, where you are left to ponder and imagine in your mind only things that fall far short of the glory I have yet to reveal from one step of faith.