Inner Healing Lecture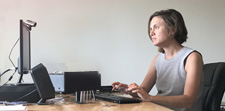 Do you have an area with a persistent block, where you just can't break through?
A key reason may be a need for inner healing—an unresolved issue with God—and it might even be unconscious.
How do you get free? Don't miss this important, unique audio lecture on Inner Healing given by Constanzia Hooker (The Upper Room Fellowship in DC).
Note: Skype session are available!
http://uncorkgenius.com
---
Interactive Audio
Accordingly, at 25 minutes on the audio, there is a place (only 10 minutes) where listeners can participate along in the prayer—don't skip the opportunity. This is where experiential results often happen.
Table of Contents
00:00 —Testimony intro
01:53 — Saved, healed and delivered
03:14 — Soul wounds
08:00 — Vows to self-protect
10:00 — Targeted by the enemy
15:40 — Healing the image of God
18:43 — Generational wounds (families/groups)
22:16 — Prayer intro
25:04 — [Prayer session -- 10 minutes]
35:15 — QA
You can also view supplementary
Inner Healing Notes
Released Free
I am a God who heals. I heal bodies, broken minds, broken hearts, broken lives and broken relationships. My very presence has immense healing powers. You cannot live close to Me without experiencing some degree of healing.
However, it is also true that you have not because you ask not. You receive the healing that flows naturally from My presence whether you seek it and not; but there is more, much more available to those who ask.
The first step in receiving healing is to live ever so close to Me. The benefits of this practice are too numerous to list. As you grow more and more intimate with Me, I reveal My will to you more directly. When the time is right, I prompt you to ask for healing of some brokenness in you or another person. The healing may be instantaneous or it may be a process -- that is up to Me. Your part is to trust Me fully and thank Me for the restoration that has begun.