Uniqueness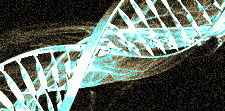 You are unique because God is.
---
True? Let's first look at some clues.
Astonishingly Improbable
When your parents got cozy, there was a one in three hundred million chance you'd be born, based on your father's count. Now multiply that by every interval of seed regeneration (practically every 72 hrs.). Now multiply by all the possible eggs your mother produced. That's intensely amazing by itself. But now—multiply all those things for every generation ( ~300!) up the chain until the very first two people. The result is absolutely astonishing. (And this doesn't even taken into effect any circumstances leading to any two people meeting in the first place.) The phrase "mind-melting" doesn't begin to describe these odds.
Your existence is almost perfectly improbable. You happened, somehow, against the highest odds. Let that soak in. If all those uber-rare events don't occur exactly, you don't exist. It's completely unfathomable. Every person has broken through the odds. And note this is independent of religious revelation. Though that does tell us who is behind it.
Luke 12:7; Jesus: "Indeed, the very hairs of your head are all numbered. Don't be afraid; you are worth more than many sparrows." (An entire theology can be built around this.)
Last year my friend Kelli had at least four visions of Jesus working with my DNA. (One reason I believe these are true is that on other occasions God gave her information about my family she couldn't have known naturally.)
You are amazingly unique, with your own personal genetic code (like fingerprints). You are unprecedented (in the past) and unrepeatable (in the future).
Why?
Because you are an image of God, who is unique. No one is more unique than the Unique One. In the Old T., He is constantly reminding the Israelites that He is unique— not one of many gods, but the only person who is perfect community one. Image that.
And the community of the Jews was uniquely chosen, destined to communicate to other communities that they were also uniquely chosen. (This was a surprise even to them.)
And Jesus is a unique man; and the Every Man.
Objection: "But I only have average qualities."
Einstein: "Everybody is a genius. But if you judge a fish by its ability to climb a tree, it will live its whole life believing that it is stupid."
Pope Francis: let God "shine so brightly that everyone may come to recognize the inestimable value of all human life. Even the weakest and most vulnerable, the sick, the old, the unborn and the poor, are masterpieces of God's creation, made in his own image, destined to live for ever, and deserving of the utmost reverence and respect."
For example, you might feel like the people in the film Manufactured Landscapes which shows massive amounts of industrial Chinese workers creating cell phones that make the whole world ring. The images highlight how sometimes it doesn't look like we're all that valuable; just one of many. However, that's because in the finite world "scarcity confers value". Not so for God, who has no lack. There is no scarcity in Heaven. And if there is—you are the one that is scarce— there's only one of you. For God, true value is not in quantity, but quality. Your being is scarce, though not always your doing or having. Your value is based on your being His.
Try this, such as at parties: ask God to help you discover what it is about a person that uniquely reflects God. Living life like this makes it a lot more interesting.
And even if the raw material of a person's qualities seem common, no one before has ever imaged how they are arranged. And further, even if a person's arrangement seems common, these are all trumped by the fact that you are a subject.
A Person is a Subject
Similarly, the U.S. Constitution is founded on the self-evident fact that : all men are created equal. A person has rights just because they are a person.
Catholic Catechism: All ethics are founded on the fact that each is a subject made in God's image.We are persons—we image God, who is a unique subject. An I — a unique being. An unparalleled, un-imitated self-conscious perceiver of reality. No one else can exist for you. No one else can choose your favorite color. No one else can perceive life as you do. No one else can experience your pains and pleasures. No one else can love like you, or love for you.
Like God, you are your own protagonist. Your life is like a film within a film, it is both a subplot of the Jesus' main plot, and its own main plot. Why? This reflects God who is both a group of persons that are one person. Each person in the Trinity has their point of view, and they all have the same point of view. Similarly, life is one story (His) and a synergy of stories (His and ours).
Likewise, you are a part of the universe and at the same time more important than the universe. For example, Luke Skywalker is a part of the Star Wars universe but more importantly, he is the point of it. At the end of the universe on his sand planet physically; at the center of the story spiritually.
To the world, you may be just one person (objectively),
but to one person, you may be the world (subjectively).
Only You Can Do It
This is the key: No one else can love God in just the way you do. That's the reason why you were created.
Nobody can do your mission for you; This is both the joy and responsibility of being a person.
B16: "Each of us is willed, each of us is loved, each of us is necessary."
And it's actually both hard and easy "to be me." Hard because part of us fights it; easy because I can just let go and trust God. I don't have to perform. No one else can be you as well as you.
Joel Osteen: "I have an anointing to be me."
The Unique Heaven
Not only is this true on earth, but greatly expanded upon in Heaven.
C.S. Lewis: "God will look to every soul like its first love because He is its first love. Your place in heaven will seem to be made for you and you alone, because you were made for it — made for it stitch by stitch as a glove is made for a hand."
Each soul has a secret signature, known completely only by God. Your gift of prayer tongues is a direct expression of it, a unique communication of your spiritual DNA code.
Unique DNA is created via sex, which is obviously a living icon revealing that that God, in creating you, received some extreme pleasure, happiness, satisfaction. This not only happened at your physical birth (your soul) and even more at your spiritual birth (when born again).
The gift of tongues is a powerful key to experiencing God's uniqueness in you -- for you have to believe enough that God has given you the gift; and its effect on you is to dynamically experience God's expression in you.
The next life is not merely a fantasy, but is a reality greater than your most imaginable fantasy. To God you are an ecstatic dream, and we dream for the unique God (paradise).
This about this: Heaven will seem like it was perfectly made for you; because you were made for it!
C.S. Lewis expounds on this, and the unique name God will give His pleasure of you:
To him who overcomes, I will give some of the hidden manna. I will also give him a white stone with a new name written on it, known only to him who receives it." Revelations 2:17
The giving of the white stone with the new name is the communication of what God thinks about the man to the man. It is the divine judgment, the solemn holy doom of the righteous man, the "Come, thou blessed," spoken to the individual... The true name is one which expresses the character, the nature, the meaning of the person who bears it. It is the man's own symbol—his soul's picture, in a word—the sign which belongs to him and to no one else. Who can give a man this, his own name? God alone. For no one but God sees what the man is... It is only when the man has become his name that God gives him the stone with the name upon it, for then first can he understand what his name signifies. It is the blossom, the perfection, the completeness, that determines the name: and God foresees that from the first because He made it so: but the tree of the soul, before its blossom comes, cannot understand what blossom it is to bear and could not know what the word meant, which, in representing its own unarrived completeness, named itself. Such a name cannot be given until the man is the name. God's name for a man must be the expression of His own idea of the man, that being whom He had in His thought when he began to make the child, and whom He kept in His thought through the long process of creation that went to realize the idea. To tell the name is to seal the success—to say "In thee also I am well pleased."