Simplicity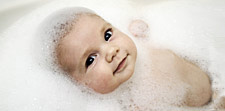 Paradoxically, to get closer to God we have to become simpler, not more complex. The reason this is hard is because it's so simple.
"I tell you the truth: anyone who will not receive the kingdom of God like a little child will never enter it." (Luke 18:17)
---
Your identity, your being, is a simple child of God. That's first. So why do we resist this?
One reason is because we might equate "childlike" with "childish":
self-focused, whiners, stubborn, petty, quarrelsome, impatient, etc.
Another reason is that we may falsely view adults and children as opposites:
C.S. Lewis: "The modern view seems to me to involve a false conception of growth. They accuse us of arrested development because we have not lost a taste we had in childhood. But surely arrested development consists not in refusing to lose old things but in failing to add new things? . . . a tree grows because it adds rings; a train doesn't grow by leaving one station behind and puffing onto the next . . . if to drop parcels and to leave stations behind were the essence and virtue of growth, why should we stop at the adult? Why should not senile be equally a term of approval?"
In other words, an "adult child" means incorporating childhood into adulthood, not losing childhood.
So, how to do this? Let it happen. It's the real you. Re-discover innate qualities to be trusting, fun, wondrous, simple, etc. (To help us, God may give us our own kids—that can change our ideas!)