Your Shadow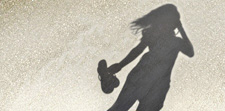 This tool had a huge impact on me.
It involves using the personality type theory (e.g., Myers-Briggs) to help reveal unconscious areas of the soul that need healing.
---
Intro
When I did these prayers, my life took a quantum leap forward. I have been doing healing and deliverance for many years, but this remarkably improved my speed and accuracy. And I didn't expect it.
The idea is basically just allowing God into the whole heart. But we have an area that we are the least conscious of, commonly called our "shadow."
The problem with the word "shadow" is the false, negative connotation that it is either evil or not really a part of you. Actually, think of it less like looking at your shadow on the sidewalk and more like the feeling the back of your head. It's a good part of you, but you don't always notice it.
Here's another way to consider it: If your soul was like a house, we're not talking about the shadow of a building, but the room least accessed.
(So perhaps the phrase "praying through your shadow" would be better referred to as "praying through your background" or "praying through your inverse" or something like that, to avoid misunderstanding.)
Inner Healing Review
The key to the release is allowing Christ into that room.
It is giving up control of the area to him. That's when healing happens.
It may not be our fault that the room is hidden or double-locked. That doesn't matter. Just ask Christ directly into it vocally, explicitly, meaningfully.

So how do we find the room(s)?
Personality Typing
You can simply ask God! But since many are not confident they are hearing well, we can also use tools, like personality tests.
Your shadow is simply the opposite of your personality type. For example, my type is ESTJ, so my shadow type would be INFP.
Extrovert (versus Introvert),
Sensing (versus iNtuition),
Thinking (versus Feeling),
Judging (versus Perceiving).
ESTJ is all about efficiency; whereas INFP is all about just chilling.
The fascinating aspect is that it's common for a person to be prejudiced against their own shadow.
We do that because it feels less familiar, less safe, less natural, less skilled—more primitive. It can seem as if it's holding you back—but it is a part of you!
Prayer Example
So in my case, the prayer for ESTJ would be.
A.) Repenting for protecting myself from INFPs (or INFP qualities).
B.) Forgiving any INFP who has caused me pain.
C.) Receiving the opposite from God by 1. allowing myself to access my own INFP qualities, 2. allowing others to give you their INFP qualities, and 3. giving God permission to manifest His INFP qualities to me.
So that's it. Try it!
When the prayer is performed it is essential to listen for where the juice/sizzle is, that is, what the Holy Spirit wants to emphasize. It's good to look up the type and review all of the shadow qualities (good and bad) and see which ones really irritate us.
Then when you address those qualities (or people) you will usually sense pain. This is major. Really connect with God at that place in your heart. And then often you will feel a release from the pain.
Results—My Story
What happened to me was pretty cool. God showed me that buried within my INFP was a significant emotional prophetic gift that I did not know existed!
For instance, today when I pray for people I see surprising dramatic results because I am able—believe it or not—to feel God's feelings for the person (called "prophetic feeling") and which results in me telling more precisely how He wants to heal the situation! I know this sounds unbelievable, but this has been unusually effective and confirmed.
I could not have predicted this, and didn't know much about it, but now I'm really grateful.
It is so utterly uncomplicated. When God has our permission to reign in an area, supernatural favor results.
The Light of Your Heart
Seek to praise and worship Me in all things.
For it is in praise and worship that you will see beyond the temporal and peer into eternity where all earthly things fade away. The way to taste the sweetness of your days is to be heavenly-minded. Seek My face now and in everything you are.
For it is only through Me that anything will exude joy and light. "I have come that you may have life and have it more abundantly. (John 10:10)
Grow into the shadows of the things you hide behind and open up your heart to the Light of the World. I AM has come—He is here. Today. For you.
Take Me into your heart and praise Me until your joy begins to overflow, that others may know Me. Joy can be yours everyday when you seek and discern My presence in all you do. Wipe free the tears for your savior has arisen today in your heart.
Let it shine forth.