Memory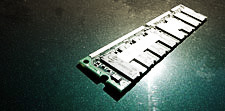 This is an intriguing prophetic word received by a friend, on the power of spiritual chip sets.

---
The Advantage
I come to you today as one who has seen the entire course of the race you now run. I have traveled far and wide into your future and I Myself have placed the checkered flag of "Finish" at the end of your unique course. From My vantage point beloved, I now offer you advantage.
Beloved, know that you run the race on foreign ground in a foreign country; a country that is clearly not your own. In the heart of every believer, I have put a simple but very strong longing for a country that is not to be found on the earth.
Although I have told My church from the beginning of time that they have a mortal enemy in this place, they often fail to take Me seriously. I have repeatedly warned that this enemy comes clothed in light and can quote scriptures better than the oldest and most devoted student of them. I have spoken plainly of this enemy's intents to kill, steal, and destroy and I have been very specific about his targets. I have painted him as the ravenous wolf he is whose appetite is exclusively for My sheep. But as My prophets pull the wool off of the wolf to reveal his presence and his true identity, My people often stone the prophets instead. This is madness beloved, yet it has always been so.
I finally sent My Son who only spoke in love and truth, and they slaughtered Him as all the rest. Now, I send yet another warning and another word, and some will crucify it as well. But to you dear bride, I cannot be silent, and to you dear mate, My pleas must continue night and day.
The Miracle of Forgiveness
What is this deadly trap made of beloved, and how has its powerful jaws taken down countless runners through the ages? It is the memory of the mind beloved, and its inability to delete files that have corrupted its program.
The memory untamed is more deadly than a vicious ravenous beast, but here is the secret to its defeat—run! Do not tarry to listen to its roar or to look at its many sharp and menacing teeth. Do not think you can outsmart, or overpower it for that is a deadly mistake. Know that you are no match for it, for it will always win every match if you attempt to match yourself against it.
If we confess our sins, He is faithful and just to forgive us our sins, and to cleanse us from all unrighteousness. (I John 1:9)
Faith must be coupled with this promise if you would receive the miracle of forgiveness. For I can forgive you all day long but if you refuse to believe that I have, then what is love to do?
Here beloved is the secret of the snare: The darkness comes as if it were My Spirit and convicts you again of the sin. Your memory recalls it vividly and feels the sting again, causing you to falsely believe that you were not successful in your attempt to repent and receive forgiveness. So successful is this tactic that many of My people have suffered for years upon agonizing years over sins that have been long ago forgiven. Sins that I have chosen in My faithfulness to put in the sea of forgetfulness and remember no more.
Tragically, many wonderful gifts that I have given to the body sit unused under shrouds of guilt and self-condemnation.
Reset Yourself
This is all so needless beloved, and each and every captive has within himself the key to unlock his own prison. What is this key you ask? It is the key of "belief" in the hands of a free-will creature. Nothing can defeat that soul on his course and no snare can hold his foot. If, (and there is the biggest word of all) the soul can believe My words, and act in that belief, he can free himself from every bondage his memory traps him in.
But that belief needs to be tutored and trained by My Holy Spirit and not just by man. A person needs to be taught that after salvation the next biggest step is to call on My Spirit to personally lead him into all truth.
But the Comforter, which is the Holy Ghost, whom the Father will send in My name, He shall teach you all things, and bring all things to your remembrance, whatsoever I have said unto you. (John 14:26)
But the anointing which ye have received of Him abideth in you, and ye need not that any man teach you: but as the same anointing teacheth you of all things, and is truth, and is no lie, and even as it hath taught you, ye shall abide in Him. (1 John 2:27)
That being understood, can you see the importance of letting My Spirit teach you about repentance and forgiveness? Once He has led you to conviction; once He has received your confession, then forgiveness is given and the process is complete. It is done, and it is over. There is no more to say of the matter. So, when the enemy comes with thoughts of guilt, remorse, and regret, he is to be rejected soundly and sent on his way, no exceptions! Then run to the arms that he said were rejecting you and cement it firmly in your heart and mind that love accepts you fully in the Son.
The Good Memory of Paul
He simply chose to forget and so must you.
Here beloved is a great example of My lesson. Paul was buffeted by a messenger of Satan that used his very good memory against him. Time after time, darkness would bring the voice of those memories to the podium of his mind, reminding him of how he tortured and killed the saints of God. Torment is a tame word to describe these attacks. Because of this messenger, Paul remained a truly humble and contrite spirit despite his exalted knowledge and visions.
Brethren, I count not myself to have apprehended: but this one thing I do, forgetting those things which are behind, and reaching forth unto those things which are before, I press toward the mark for the prize of the high calling of God in Christ Jesus. (Phil 3:13,14)
For Paul and also for you, the darkness eventually abandons the use of such memories if they throw you into praise and worship instead of condemnation and despair.
For the weapons of our warfare are not carnal, but mighty through God to the pulling down of strong holds; Casting down imaginations, and every high thing that exalteth itself against the knowledge of God, and bringing into captivity every thought to the obedience of Christ. (II Cor. 10:4,5)
I Am Your Memory
Know beloved, that I too have a memory. I remember the cost that was paid, and in truth, continues to be paid on your behalf. I know that My Spirit will fight to the death for your soul and for your eternal life. It is important that as you come up for air with this truth that you remember this most important quality of My love.
Together beloved we shall create memories of love that can be easily entreated, strengthening both the heart and mind.
Finally beloved with all diligence use these following weapons forged in the fires of the greatly heated trials of Paul. In so doing, you will cause the weapons of your enemies to be totally useless against the power and the passion of our mutual love:
Finally, brethren, whatsoever things are true, whatsoever things are honest, whatsoever things are just, whatsoever things are pure, whatsoever things are lovely, whatsoever things are of good report; if there be any virtue, and if there be any praise, think on these things. Those things, which ye have both learned, and received, and heard, and seen in me, do: and the God of peace shall be with you. (Phil 4:8,9)
Has the darkness kept this fact well hid from you as it pummeled you with it unmercifully time and time again? Then you are in the majority of believers who need to stop looking only to man for their teaching and their answers and start also personally and persistently looking to Me and My Spirit to guide them into not only "all truth" but also "all victory."