Lord's Day Prayer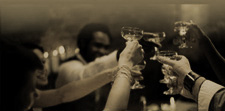 This is a portion of an early church prayer, used to celebrate God on Saturday night. I have found it's a great thing to get in the habit of saying then before dinner. Somehow the Holy Spirit is in it, at least for me—it seems to change the tone of the whole weekend.
Enjoy.
---
"This is the Lord's Day, let us welcome it in peace. Today we set aside the concerns of the week in order to honor the Lord and to celebrate his resurrection. The Lord is with us to refresh and strengthen us. Let us welcome the Lord among us and give him praise. Let us love each other as brothers and sisters in the Lord. May the Holy Spirit be with us to deepen our love of God and increase our zeal to serve him.
[The Leader pours wine into a cup and raises it. saying:]
Lord we praise you with this symbol of joy and thank you for the blessings of this past week--for life, health and strength; for home, love and friendship; for the discipline you give us through our trials; for the strength you provide in our temptations; for the happiness that you have brought us through our labors.
We thank you, Father, especially for the great blessing you have given us in Christ Jesus. We who were dead through sin have been brought to life in Christ. Through your mercy and care he guides us and is transforming us into his own image. Lord, our God, you have brought us into the peace and rest of Christ. Now we live with him through the Holy Spirit and look for the day when we will live together with him in your everlasting Kingdom."
Celebrating God
Your Christian life is a breakthrough, a celebration, a victory, a light in the darkness, for in Me, your Savior, there is only rejoicing.
I am beyond it all and from where I see it, you could not be in a better place. And with faith and belief as your guide, you can join Me in this satisfying presence that knows only peace.
And, yes, you are free to come and escape to your peace.