Exorcist Lecture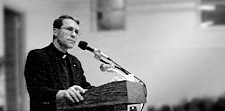 Fr. Tom Euteneuer let me record his 12/7/07 lecture at St. Agnes Church in Baltimore, MD.
Unfortunately though, because of personal misconduct, he's had to resign from his position.
However, I think you'll still be greatly intrigued by this talk and QA, which is full of strong topics and real-life examples. There's definitely a battle going on.

---
Interesting Points
Exorcist Lecture

(MP3, 22MB, 78 mins.)
There are about 7 full-time exorcists in the U.S.
Fr. Tom's first exorcism (around 2002) was with Protestant deliverance ministers.
He was initially surprised at how much power Christians have in this realm.
When you direct your prayers in faith, it is similar to being a policeman who shines his light on an offender, asking the demon for his license. (They're in Christ country!)
He recommends: "If you ever get a chance to be a part of an exorcism team, definitely do so!" The Father loves to coach victories. (Luke 10:17-22)
An Undivided Self
Your divided loyalties will scatter you and lead your focus away from Me. Commit today to be single-minded for My kingdom purposes.
The truth speaks only one language and is never to be questioned or compromised. I have endowed you with the heavenly language to hear My voice in all matters right and wrong. Questioning, delaying, not seeking or listening will always lead you astray. And the further you drift from the eternal truth, the more difficult to discern anything else I speak to you hereafter.
Pray each day for an undivided heart—one that does not compromise My ways. One of the more effective schemes of the enemy is to divide—and then, conquer. No one part of a divided self is able to withstand the united front of satanic attack.
Counter with a united front of your own, whereby you choose to stay submitted to the loving, protective authority of the Holy Spirit. "For we have no power against this great multitude that is coming against us; nor do we know what to do, but our eyes are upon You." (II Chronicles 20:12)
An unwavering heart connected to Me is assured victory despite struggles and hardships. Anything less will eventually lead you to a defeated life. Fear, impatience, revenge, idleness, entitlement can all feed the gradual division of your heart. Do not let these or other vices seep into your way of life, for they will only feed your flesh and devour your soul.