The Enemy
Yes folks, we have an enemy, whether or not we believe in him. Examples below.

---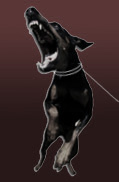 As a strategic commander, Satan is pleased by giving him too much attention or too little. Since many aren't aware he's responsible for a portion of suffering, the first goal is to show his existence.
If we don't believe he exists we'd better be sure otherwise we're vulnerable, which is what he wants—freedom to act undercover.
The Existence of an Evil Agent
Doubters should know that you're in direct contradiction to the life and teaching of Christ, and the vast wisdom and experience of Christians.
A few devil-sightings (common when we're in battle):
Visions

. Many of my friends who receive visions often see the enemy attacking. On one occasion a brother of mine saw the devil in the form of a large dragon peering into a stadium arena at night where we could be seen praising God. Our worship was like an intense beacon of bright light extending to Heaven, and was too much for him, causing a recoil. Satanic panic. The message: the worship is protection.

Haunted

. A friend of mine had just converted to Christianity after being involved in New Age meditation (often an occultic cover), but one evening decided to open himself up to "the spiritual realm". While drawing he said something took over his hand and began to spell out the message "This is SATA...." Thrusting his arm off the paper, he immediately phoned me, and we called on the power of Christ to get rid of it. The lesson: don't be "generally spiritual"; submit directly to the authority of Christ.

Live Deliverance

. During a Derek Prince lecture, a demon manifested (and later revealed the woman opened the door through participating in lies and sexual immorality.) Hear it yourself.
Exorcism Audio (MP3, 1.2Mb, 5 mins.)
Theological Insights
Most people believe in angels and most believe in free will. Put them together and you get demons, self-corrupted ex-angels.
Evil is not something in itself, but perverted good. Evil is a negative, in the way that darkness is the absence of light and cold is the absence of heat. So, note that there isn't a struggle between light and darkness, but only a struggle to be in the light—darkness is always cast out by light.
Satan was once God's most beautiful, compelling creature, but by putting his will over God's, he self-perverted. (Isa 14:12-14, Eze 28). The medieval maxim says "the corruption of the best is the worst."
Why would Satan rebel? The same reason we do: we want independence of God: insanity.
The Enemy's Strategy
His first goal is not harassment, but preventing submission to God—via questioning a person's identity as His child (e.g., Luke 4.) Just like for Jesus, our defense is God's promise, His word.
The world's greatest exorcist called the devil "the father of lies." To maximize deception, Satan mixes in truth. (E.g, counterfeit money is more effective the closer it is to legit money.) So when he tempted Jesus he backed up his falsehood by Scriptural quotes.
To prevent higher goods, the devil will tempt with a lesser good, often through imbalances. (E.g., promoting outreach while neglecting prayer; talking gospel while neglecting discipline, etc.)
If Satan can't possess you, he'll oppress; frequently in via fears, anxieties, doubts, insecurities, disbelief, despair, division, unfaithfulness, etc.—look for clues here. For one completely submitted to Christ, the enemy is merely a barking dog on a rope.
Can a Christian Have a Demon?
Only if he wants one! Just as sin and vices don't automatically leave when you become a Christian, the victory over demonic influence isn't always immediate. Being in Christ means you now have the capability to deal with them. As a healthy body may contract an illness when its immune system is weak, so also a

person's spirit may attract demonic influences when attacked.
The Catholic church verified that even Mother Theresa experienced freedom from demonic oppression. Access the
9/7/01 CNN Report on Mother Theresa's Exorcism

Christ Has the Last Word
You are an overcomer. My Word is still true despite what you see. Satan fears the goodness and greatness of the Lord in you. Your fear is nothing to his for he truly has something to fear: the God of the universe against him. The best he can do is to try to make you as miserable as he is. Misery loves company.