Charisms Audio Dialogue (w/ Peter Kreeft)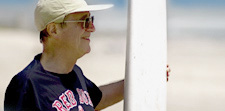 Everyone has gifts inside that we don't often realize.
You're welcome to enjoy this banter I had with Dr. Kreeft on our supernatural charisms (visions, tongues, healing, etc.)
---
Charisms: Visions, Tongues, Healing, etc. (YouTube)
Charisms: Visions, Tongues, Healing, etc. (MP3, 45:53)
Transcript (Amazon eBook/hardcopy)
There is More For You
Look to Me anew each day for I have gifts that you see and many you do not see. This is My favor happening. Walk by faith, not be sight. Leave your old way of thinking.
I live for you and I desire to see My best for you. But let Me be the determinant of what that is.
My gifts are based on My eternal love for you. I give them with your eternity in mind for as this world passes away, I long to draw you closer and closer to the day you will see Me face to face. Live today for that day and know how for it will surpass all that you have known.